Please join us in celebrating and promoting the first Sustainable Development Goals (SDG) Action & Awareness Week, March 1-5, 2021, coordinated by the University Global Coalition (UGC), the State University of New York (SUNY), and many additional higher education institutions from around the world!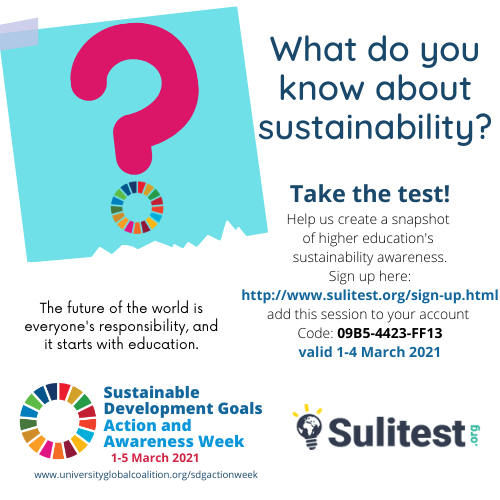 The Signature Event
In the opening event of UGC Action & Awareness Week (March 1st at 12PM Eastern Time) Aurélien Decamps, co-founder of Sulitest and faculty at Kedge Business School, will present the High-level Political Forum on Sustainable Development Sulitest Report for 2020 and the Sulitest International Test. During the week, students, faculty and staff will have the opportunity to respond to the SuliTest, a tool for assessing an individual's SDG literacy, free of charge. Please register in advance of this presentation to secure your place: http://bit.ly/SDGSulitest 
You can take the test during SDG Action and Awareness week.  Sign up at: http://www.sulitest.org/sign-up.html. Once you are registered, you can add this session code: 09B5-4423-FF13 (please copy and paste it under "Add Sessions", without any space before or after).  We encourage you to share it widely with your students and colleagues. Preliminary results of the survey will be presented and discussed in a closing event on Friday, March 5.
About Sulitest:
Sulitest is an international organization devoted to promoting sustainability literacy, that is, the knowledge, skills and mindsets that allow individuals to become deeply committed to build a sustainable future and that help them to make informed and effective decisions to this end.
Resources
SDG Action and Awareness Week organizers have provided resources for students, faculty, and staff to learn about the SDGs and to assist in incorporating SDG-related concepts into their current course structure and projects in a flexible, online format. Visit the UGC website to view resources such as: a Student Action Toolkit; SDG AAW graphics to share on social media, email, etc.; A Guide for Teaching the SDGs; and more!
For more information on the week, please visit https://universityglobalcoalition.org/sdgactionweek/